3월 Decca 신보(2/27(목) 마감, 4월 초 입고 예정)
페이지 정보
작성자

풍월당

작성일

20-02-20 12:06 조회564회 댓글6건
본문
Decca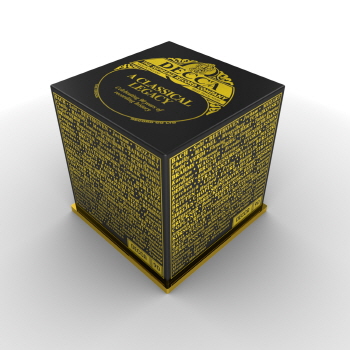 4850219 (55CD+2bonus CD)
DECCA 90주년 기념 한정반
Various Artists
1929년 창설 이후, 90년 동안 이룩한 DECCA레이블의 가장 위대한 명반을 엄선한 기념비적 박스세트가 발매 된다. 에리히 클라이버의 베토벤 교향곡을 시작으로, 카라얀 지휘 <차라투르스트라는 이렇게 말했다>, 샤이 지휘 브람스 교향곡 1, 3번을 비롯해 줄리니, 마젤, 뒤투아, 하이팅크, 메타, 맥커라스, 볼트, 프레빈, 셸 등 거장 지휘자들이 DECCA에서 남긴 명녹음이 전면에 배치되어 있다. 안드라스 쉬프의 <골드베르크 변주곡>를 비롯해 라두 루푸, 넬슨 프레이레, 정경화, 브렌델, 굴다, 커즌, 아쉬케나지, 티보데, 얀센 등 솔리스트 명반이 중반에서 무게를 더한다. 로스트로포비치와 브리튼의 슈베르트 <아르페지오네 소나타>는 물론, 타카시 사중주단의 베토벤 연주, 레나타 테발디의 리사이틀 음반, 바르톨리의 비발디 앨범, 솔티의 <니벨룽의 반지 하이라이트>와 같은 인기 음반도 대거 포함되었다. 또한 Argo 레이블의 네빌 매리너 모차르트 <레퀴엠>, L'Oiseau-lyre 레이블의 호그우드 지휘 헨델 <메시아>, Phase 4 Stereo 레이블의 도라티 지휘 <피터와 늑대>와 같은 자매 레이블의 중요 음반도 포함되어 있다. 각 음반은 오리지널 커버 슬리브에, 보너스 트랙을 추가해 새롭게 편집된 경우가 많으며, 데카의 첫 발매인 딜리어스 <해류> 녹음을 비롯한 SP발매를 편집한 2장의 CD가 보너스로 포함된다.
[수록곡]
ORHESTRAL
CD1
RAMEAU: Overtures (L'Oiseau-lyre)
Les Talens Lyriques/Rousset
CD2
MOZART: Symphonies Nos 40 & 42 (Decca)
New Philharmonia/Carlo Maria Giulini
CD3
BEETHOVEN: Symphonies Nos 5 & 6 (Decca)
Concertgebouw Orchestra/Erich Klieber
CD4
BEETHOVEN: Symphony No. 9 (Decca)
Jessye Norman/Reinhild Runkel/Robert Schunk/Hans Sotin
Chicago Symphony Orchestra & Chorus/Sir Georg Solti
CD5
BRAHMS: Symphonies Nos 1 & 3? (Decca)
Gewandhausorchester Leipzig/Riccardo Chailly
CD6
R. STRAUSS: Also sprach Zarathustra; Till Eulenspiegels lustige Streiche;
Salome Dance of the Seven Veils; Don Juan? (Decca)
Wiener Philharmoniker/Herbert von Karajan
CD7
RIMSKY-KORSAKOV: Scheherazade? (Decca)
Cleveland Orchestra/Maazel
CD8
ROMANTIC RUSSIA (Decca)
London Symphony Orchestra/Sir Georg Solti
CD9
HOLST: The Planets (Decca)
Montreal Symphony Orchestra/Charles Dutoit
CD10
PROKOFIEV: Peter & The Wolf;
BRITTEN: The Young Person's Guide to the Orchestra (Phase 4 Stereo)
Sean Connery/Royal Philharmonic Orchestra/Antal Dorati
CD11
SHOSTAKOVICH: Symphonies Nos 5 & 9 (Decca)
Royal Concertgebouw Orchestra/Bernard Haitink
CD12
HERRMANN: The Great Movie Thrillers (Phase 4 Stereo)
LPO/Bernard Herrmann
CD13
WILLIAMS: Star Wars Suite; Close Encounters of the Third Kind (Decca)
Los Angeles Philharmonic/Zubin Mehta
CD14
MAXWELL DAVIES: Symphony No.1; Points & Dances from "Taverner" ?(Headline)
Philharmonia Orchestra/Fires of London/Sir Simon Rattle
CONCERTO
CD15
MOZART: Piano Concertos Nos 23 & 24 (Decca)
Cleveland Orchestra/Mitsuko Uchida
CD16-17
THE FAREWELL CONCERT? (Decca)
Alfred Brendel/Wiener Philharmoniker/Sir Charles Mackerras
CD18
BEETHOVEN: Piano Concertos Nos 4 & 5 (Decca)
Friedrich Gulda/Wiener Philharmoniker/Horst Stein
CD19
BRAHMS: Piano Concerto No.1 · FRANCK: Variations Symphoniques
LITOLFF: Concerto Symphonique No.4 (Decca)
Clifford Curzon/London Symphony Orchestra/Georg Szell/London Philharmonic Orchestra/Sir Adrian Boult
CD20
RACHMANINOV: Piano Concerto Nos. 2 & 3(Decca)
Vladimir Ashkenazy/London Symphony Orchestra/Andre Previn
CD21
GERSWIN: Rhapsody in Blue; Piano Concerto (Decca)
Jean-Yves Thibaudet/Baltimore Symphony Orchestra/Marin Alsop
CD22
WALTON & STRAVINSKY: Concertos for Violin and Orchestra (Decca)
Kyung-Wha Chung/London Symphony Orchestra/Andre Previn
PIANO/KEYBOARD
CD23
J.S. BACH: Organ Works(Argo)
Peter Hurford
CD24
J.S. BACH: Goldberg Variations(Decca)
Andras Schiff
CD25
BEETHOVEN: Piano Sonatas ? Moonlight, Pathetique & Waldstein (Decca)
Radu Lupu
CD26
BRASILEIRO(Decca)
Nelson Freire
CHAMBER
CD27
VIVALDI: The Four Seasons (Decca)
Janine Jansen
CD28
BEETHOVEN: String Quartets Nos 11 & 13 (Decca)
Takacs Quartet
CD29
DEBUSSY, SCHUMANN, SCHUBERT, BRIDGE, BRITTEN: Works for Cello & Piano? (Decca)
Msitslav Rostropovich/Benjamin Britten
CD30
RAVEL: Piano Trio · DEBUSSY: Violin & Cello Sonatas (Decca)
Lynn Harrell/Itzhak Perlman/Vladimir Ashkenazy
CD31
SHOSTAKOVICH: String Quartets Nos 4, 8, 12 & 15 (L'Oiseau-lyre)
Fitzwilliam Quartet
CD32
REICH: Six Pianos · RILEY: In C (Argo)
Piano Circus
CHORAL/SACRED
CD33-34
HANDEL: Messiah(L'Oiseau-lyre)
Judith Nelson/Emma Kirkby/Carolyn Watkinson/Paul Elliott/David Thomas/Christ Church Cathedral Choir, Oxford/Academy of Ancient Music/Christopher Hogwood
CD35
MOZART: Requiem (Argo)
Academy of St Martin in the Fields/Neville Marriner
CD36-37
VERDI: Requiem(Decca)
Joan Sutherland/Marilyn Horne/Luciano Pavarotti/Martti Talvela/Wiener Philharmoniker/Sir Georg Solti
CD38
ORFF: Carmina Burana (Decca)
Lynne Dawson/John Daniecki/Kevin McMillan/San Francisco Girls Chorus/San Francisco Boys Chorus/San Francisco Symphony & Chorus/Herbert Blomstedt
CD39
BRITTEN: War Requiem (Decca)
Galina Vishnevskaya/Peter Pears/Dietrich Fischer-Dieskau/London Symphony Chorus/The Bach Choir/Melos Ensemble/London Symphony Orchestra/Benjamin Britten
CD40
A FESTIVAL OF NINE LESSONS AND CAROLS (Argo)
Willcocks/Kings
SONG/RECITAL
CD41
KATHLEEN FERRIER: An Anthology (Decca)
CD42
A SONG FOR YOU plus ITALIA MIA (Decca)
Mario del Monaco/Mantovani and his Orchestra
CD43
OPERATIC RECITAL plus Bonus Highlights (Decca)
Renata Tebaldi/Santa Cecilia Academy Orchestra/Alberto Erede
CD44-45
THE ART OF THE PRIMA DONNA plus Lakm Flower Duet (Decca)
Joan Sutherland
CD46
CHANTS D'AUVERGNE Vol.1 (Decca)
Kiri Te Kanawa /English Chamber Orchestra/Jeffrey Tate
CD47
THE VIVALDI ALBUM(Decca)
Cecilia Bartoli/Arnold Schoenberg Chor/Il Giardino Armonico/Giovanni Antonini
CD48
THE BEAUTIFUL VOICE(Decca)
Renee Fleming/English Chamber Orchestra/Jeffery Tate
CD49
WAGNER (Decca)
Jonas Kaufmann/Orchester der Deutschen Oper Berlin/Donald Runnicles
OPERA
CD50
WAGNER: Der Ring Des Nibelungen Great Scenes(Decca)
Wiener Philharmoniker/Sir Georg Solti
CD51
GILBERT & SULLIVAN: The Very Best of Gilbert & Sullivan (Decca)
D'Oyly Carte
CD52
PUCCINI La Boheme highlights (Decca)
Mirella Freni/Luciano Pavarotti/Elizabeth Harwood/Nicolai Ghiaurov/Chor der Deutschen Oper Berlin/Berliner Philharmoniker/Herbert von Karajan
CD53
THE ORIGINAL THREE TENORS CONCERT, 1990? (Decca)
Jose Carreras, Placido Domingo, Luciano Pavarotti/Zubin Mehta
CD54
AN INTRODUCTION TO ENTARTETE MUSIK(Entartete Musik)
Various Artists
CD55
RAVEL: L'enfant et les sortileges; Sheherazade (Decca)
Isabel Leonard/ Yvonne Naef/ Susan Graham/Saito Kinen Orchestra/Seiji Ozawa
BONUS
Selection of highlights from the very first 78s on Decca and early FFRR recordings
CD56
DELIUS: Sea Drift
Roy Henderson/New English Symphony Orchestra & Choir/Anthony Bernard
ELGAR: Enigma Variations
National Symphony Orchestra/Malcom Sargent
BRITTEN: Serenade for tenor, horn & strings
Peter Pears/Dennis Brain/Boyd Neel String Orchestra/Benjamin Britten
CD57
GILBERT & SULLIVAN: Daphnis et Chloe Suite
Paris Conservatoire Orchestra/Charles Munch
RAVEL: Sheherazade
Suzanne Danco/Paris Conservatoire Orchestra/Ernest Ansermet
CHABRIER: Espana
National Symphony Orchestra/Victor Olof
SAINT-SAENS: Danse Macabre
National Symphony Orchestra/Boyd Neel
BIZET: L'Arlesienne Suite
National Symphony Orchestra/Sidney Beer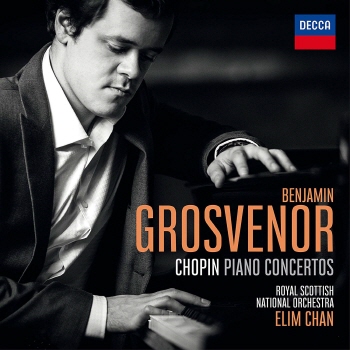 4850365
쇼팽: 피아노 협주곡 1, 2번
벤자민 그로브너
키신의 데뷔 때와 비교될 정도로 어린 나이에 뛰어난 재능을 보였던 피아니스트 벤자민 그로브너가 새로운 협주곡 음반을 발표한다. 많은 사랑을 받고 있는 쇼팽 피아노 협주곡 1, 2번을 모두 담고 있는데 엘림 찬이 지휘하는 로열 스코틀랜드 내셔널 오케스트라의 협연이다. 이들은 2018년 쇼팽 피아노 협주곡 2번을 함께 공연했는데, 당시 그로브너의 격조와 시적 감수성 높은 피아니즘과 2악장에서의 아름다운 노래를 만들어내는 탁월한 연주로 찬사를 얻어 자연스럽게 1, 2번을 모두 담은 음반을 발매하기에 이르렀다.
DECCA BLACK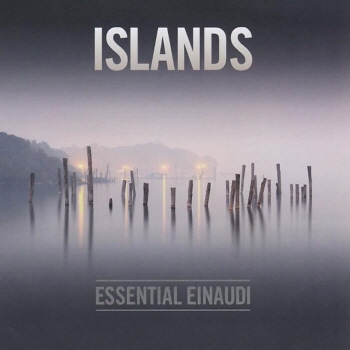 4764491 (2CD)
에이나우디 베스트 "아일랜드"
루도비코 에이나우디
2011년 발매 된 루도비코 에이나우디의 베스트 음반이 소개된다. 최근 7일간의 산책을 음악화 한 명상적 음반으로 새롭게 큰 인기를 누리며 이전 음반들의 재발매도 이끌어 내고 있는데, 바로 그 재발매 솔로음반들의 정수와 함께 기존 독집에 수록되지 않았던 음악도 포함하고 있다. <In a Time Lapse> 앨범 이전 시절을 확인할 수 있는 엄선된 작품들로, 광고와 영화를 위해 사용되어 널리 알려진 친숙한 선율로 가득하다.